Featured.
VICE
MTV
Channel News Asia
- Gif Fest II 2019 -
GIFFEST II is back as Singapore's largest celebration of animated gifs. Presented by Noise Singapore and organized by The Unusual Network, amateurs to professionals were invited to submit their original gifs, for the opportunity to be showcased at the festival alongside some of the best international image makers.
- Animated GIF flyer for Gif fest II 2019 -
- Gif Fest II 2019 ANIMATED LOOPING IDENTITY -
The theme of this year's festival is 'Magic', a nod to the medium's extraordinary ability to capture the imagination as a form of art, entertainment and communication. As part of the National Arts Council's Noise Anchor Programs, the full-scale interactive exhibition took place from Mar 28th to Apr 1st at the Gillman Barracks, featuring 150 GIFs from over 600 submissions, and saw over 40 young cutting-edge artists push the boundaries of the GIF by experimenting with
various modern technologies. Apart from the multi-media showcase, the 2nd edition of GIF FEST was supported by a program of activities such as a new 'GIF Cinema' chill-out zone, talks by industry leaders, workshops and special events, designed to uncover the secrets behind the medium and the potential power of the gif. GIF FEST II also partnered with Clear Channel Singapore, which saw some of the best vertical gifs displayed at bus shelters across the island.
- concept -
The use of typography was decided to be in smooth transition, and key visuals were given much more depth in full 3D this year to serve as a progression from the 1st edition of GIF Fest.
- GIF Fest II Animated Logo Pattern -
- Process -
This year's brief was to marry Art and the Magic of animation together. To do that, we created an abstract moving portrait of Surrealist artist Dali, formed by elements related to MAGIC, as well as Dali's famous artworks.
- BÜRO UFHO -
- GIF FEST II 'MAGIC' LOOPING KINETIC TYPE ANIMATION -
For the MAGIC theme, the looping animation of the morphing of each letter weights creates a magical dynamism of animation.
- 'MAGIC' Kinetic Type Animated Patterns -
- GIF FEST II TOTE BAG DESIGNS -
- Gif fest II Dali Clock, Wobble Candle, Balloon dove EVENT TEASER ANIMATIONs -
- BEHIND THE SCENES - TEASER ANIMATION PROCESS -
- Industry Night - Tall Stories: The Next Wave of Storytelling -
- Speakers l-r: Pinwheel/ Parallel Studio / Hombre Mcsteez/ Global cco of tgh Collective
Moderated by charlotte mceleny, publisher of the drum -
- GIF Fest II Talk video opener -
- GIF Fest II looping eye animation -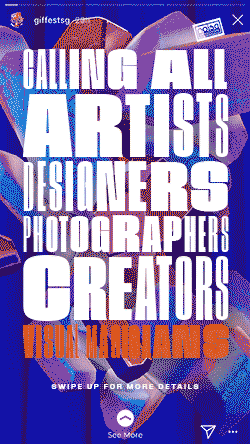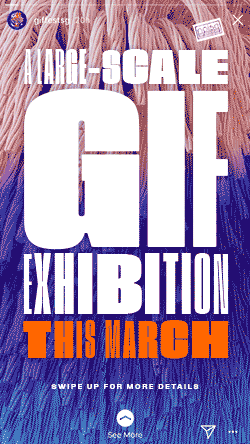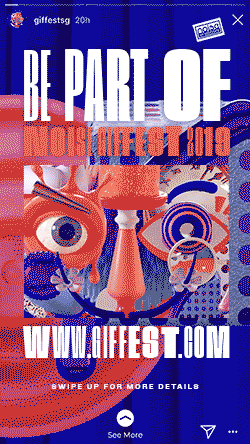 - GIF Fest II Instagram Stories Call for Entries -
- GIF Fest II Facebook Page Cover -
- GIF Fest II Featured Animations on Clear Channel Adshel -
- GIF Fest II Web Development by @Siahlah -
- GIF Fest II Press Coverage -
- GIF Fest II EVENT Video by @jacqandthebeanchock -
Credits - Concept & Direction: BÜRO UFHO & GIF Fest |
DESIGN: BÜRO UFHO